Today we are launching a new logo, part of an updated visual identity for the Durham Public Library. You will see the new logo on our website, social media, and printed materials.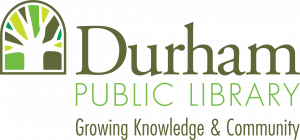 I'm sure many people are asking, "Why? We liked the old one!"
We didn't change the logo just for the sake of change. We are continually evolving to meet the needs of our community and a simpler, more colorful logo does a better job of communicating what the library is now, in 2019. The Durham Public Library logo has been updated several times over the last 120 years, to keep up with changes in services or technology. Our most recent logo was developed in the 1990s and incorporates several elements from earlier logos, including the original library building, trees, and the arched window that is a large part of the library's architectural identity. While the logo is very charming, the intricate pencil drawing is hard to reproduce and was not designed with today's digital media in mind.
The new logo is an evolution from the previous logos, rather than a completely new design. We kept the arched shape of the palladian window which is a hallmark of our building and we incorporated a modern, stylized tree, symbolizing both the Library's roots in the community and our mission to help all Durham's citizens to read, discover, and grow. We stayed true to our "Durham Green" but in a brighter, more modern palette.
We hope you like the new look and feel for the Durham Public Library.  We look forward to seeing you in the Library soon, where you will see that one thing hasn't changed: our commitment to warm and welcoming public service.
The new logo and brand identity was designed by Rebel Interactive Group and funded by a grant from CT Humanities.
Connecticut Humanities, a nonprofit affiliate of the National Endowment for the Humanities, supports cultural and historic organizations that tell the state's stories, build community and enrich lives.