Services for Children – Books Are Just the Beginning!
The Youth Services Department at the Durham Public Library is dedicated to fostering a love of reading and learning by offering a diverse array of books, audiovisual materials, toys and games, and fun and educational programs for children from birth to age 18.
Looking for a book, but don't know what to read? Fill out one of these forms and we will pick out 10 books for you and put them on hold:
Come in for a book and stay to play!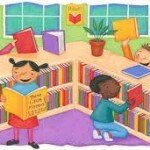 From board books for babies to picture books, puzzles, and puppets, the Durham Public Library offers a variety of resources for young children that will entertain while helping them learn basic literacy skills.
Weekly storytimes are offered for children from birth to 5 years and special programs are offered periodically. Check our program schedule for a current list of events.
Looking for something to read? You've come to the right place! Easy readers, chapter books, graphic novels, non-fiction titles, and fiction both classic and brand new  — the Durham Public Library has what you need to complete a homework assignment, learn a new skill, or just kick back with a good book. We have audiobooks and videos, too!
If it is something to do that you're looking for, check out our fun programs, book discussion groups, and summer reading program.
Homework Help
The library staff is always happy to answer questions or help students find resources for school projects. Can't make it to the library? The following resources can help: 
iConn Databases: There are a number of useful databases for students. You will need your library card to log in.
ConneCT Kids: Information on Connecticut
IXL Math: Math practice for pre-K through geometry 
Transparent Language- with KidSpeak
We are excited to announce that we now offer Transparent Language Online free to all Durham Public Library card holders. Whether you're starting at the very beginning with a new alphabet or you're an intermediate learner looking to enhance your vocabulary and grammar knowledge, Transparent Language Online can help. Available for learning 110+ languages, plus English (ESL) materials for native speakers of 30+ languages, the program has something for everyone. This resource is funded by PALS: The Friends of the Durham Public Library.
Be sure to look for Kidspeak. With KidSpeak young learners explore a new language with their cartoon "friend" and his or her pet. They'll broaden their horizons as they work their way through fun and engaging activities with KidSpeak. This feature is available for Chines, German, French, Spanish and Italian.
Child Care
Search for child care near you with :
Connecticut 2-1-1 Child Care: A free and confidential statewide service which help match the requests of parents and caregivers with child care providers and programs.