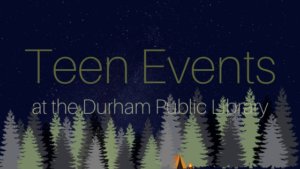 Summer Reading 2022: Read Beyond the Beaten Path
Teen Book Box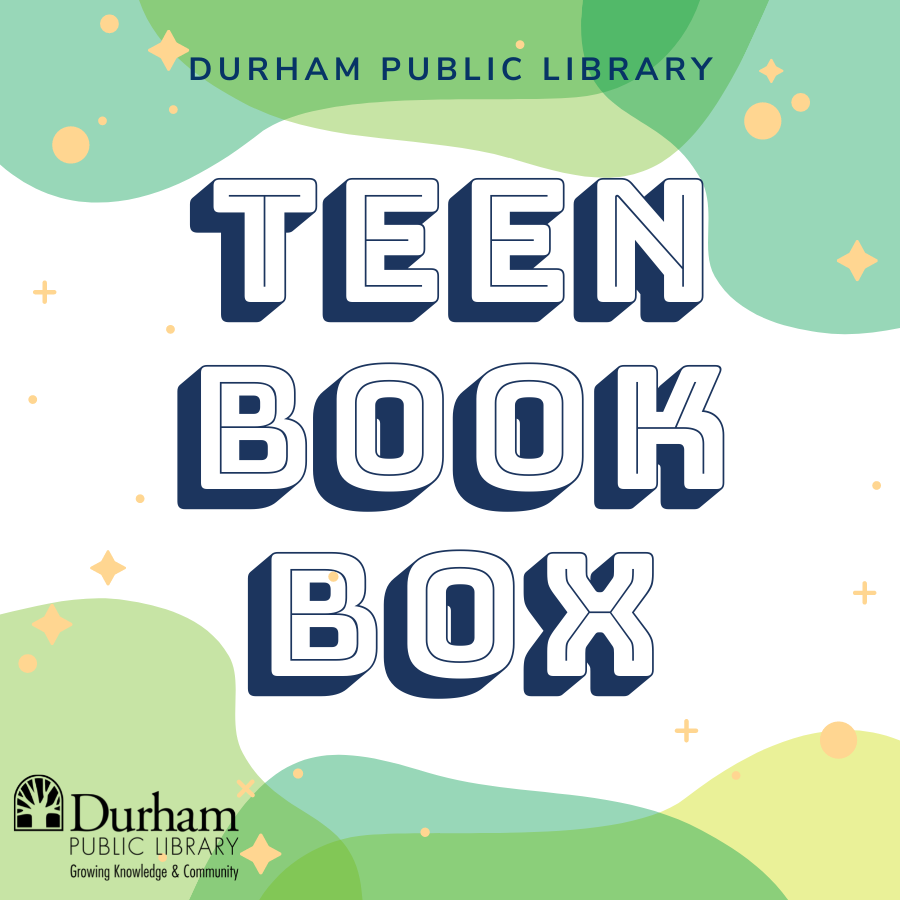 Fill out the form (https://tinyurl.com/DPLTBB ) to receive a monthly Teen Book Box from the Durham Public Library.
(If you leave the optional questions blank we will just surprise you with a pick)
Inside you'll find;
YA title checked-out to you
A Bookmark
Surprise(s)
Candy
A Sticker
We will email you when your box is ready. Stop by the front desk to pick up your box. When you are finished simply return the book (and the box if you'd like to help us recycle). You may keep the rest of the items in your box!
You will be notified when each month's Teen Book Box is ready for you. You will have one week to come and pick up your box.
Books will be checked out to you for two months, however, in order to receive the next month's box you MUST have returned the book to the library!
Miss a month? That's ok we will be in touch again the following month. If you miss two pick-ups in a row we will just remove you from our list. You are welcome to register again if you want to re-join the program.
---
Kids Tag Sale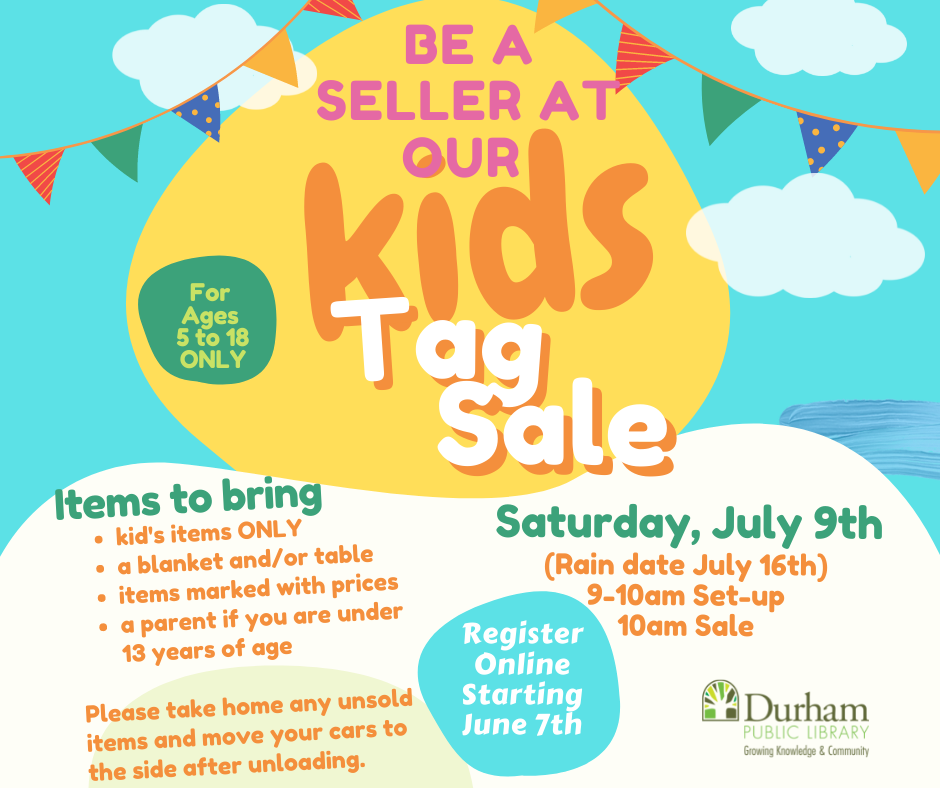 Saturday 7/9 at 10 AM. Rain Date 7/16
Set up 9 AM-10 AM Sale 10 AM-12 PM
A sale where only kids can sell, but anyone can buy! We are looking for sellers ages 5-18 (12 & under with a parent).
Registration is required for sellers. Registration opens on June 7th.
REGISTER HERE to be a seller at the tag sale.
Please bring the following if you plan to sell:
kid's items ONLY
a blanket and/or table
items marked with prices
a parent if you are under 13 years of age
Please take home any unsold items and move your cars to the side after unloading.
---
Teen Cuisine: Mug Treats
Come make (and eat!) a different mug treat each month! Mug and all ingredients will be provided.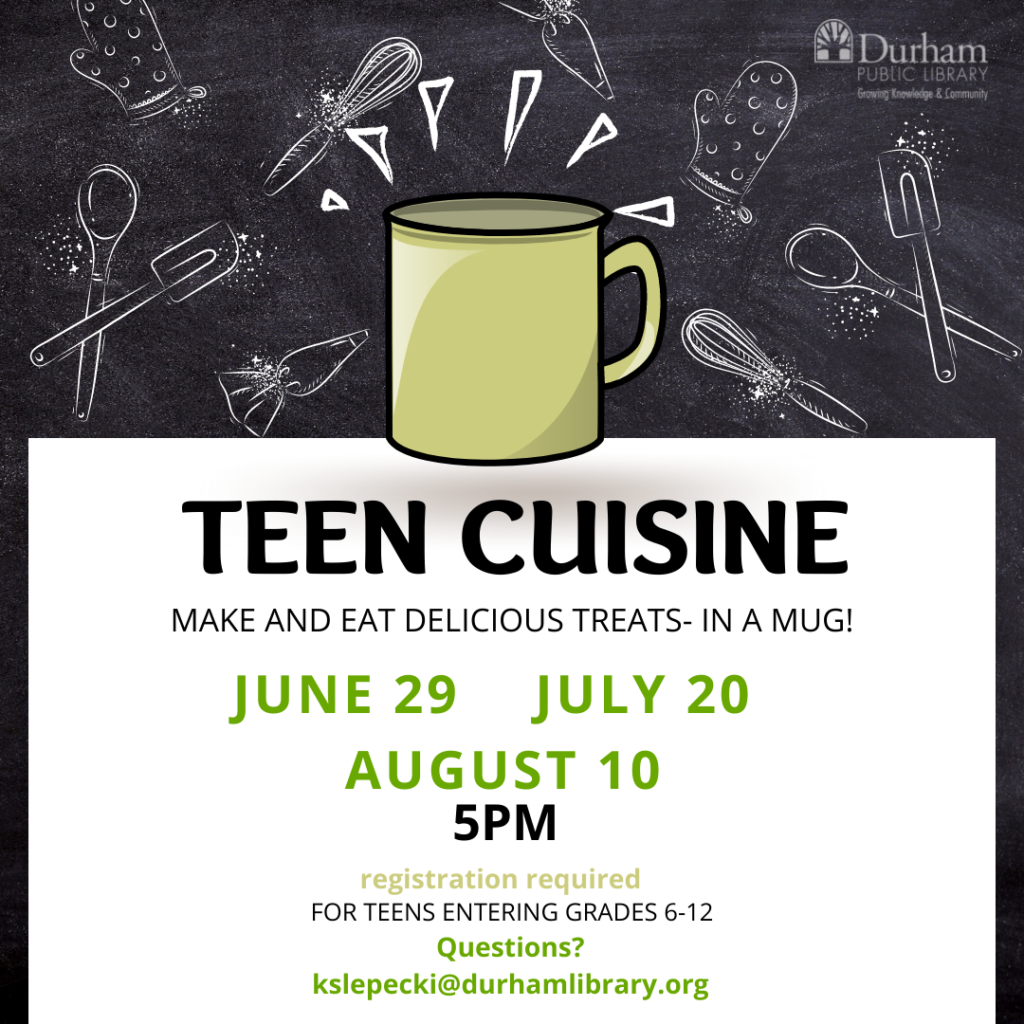 Registration is required for each session.
For teens entering grades 6-12. Limit 14.
6/29- S'Mores Cake register HERE beginning 6/15
7/20- Jello-O Cake register HERE beginning 7/6
8/10 Hot Cocoa Cake register HERE beginning 7/27
---
Retro Camp Crafts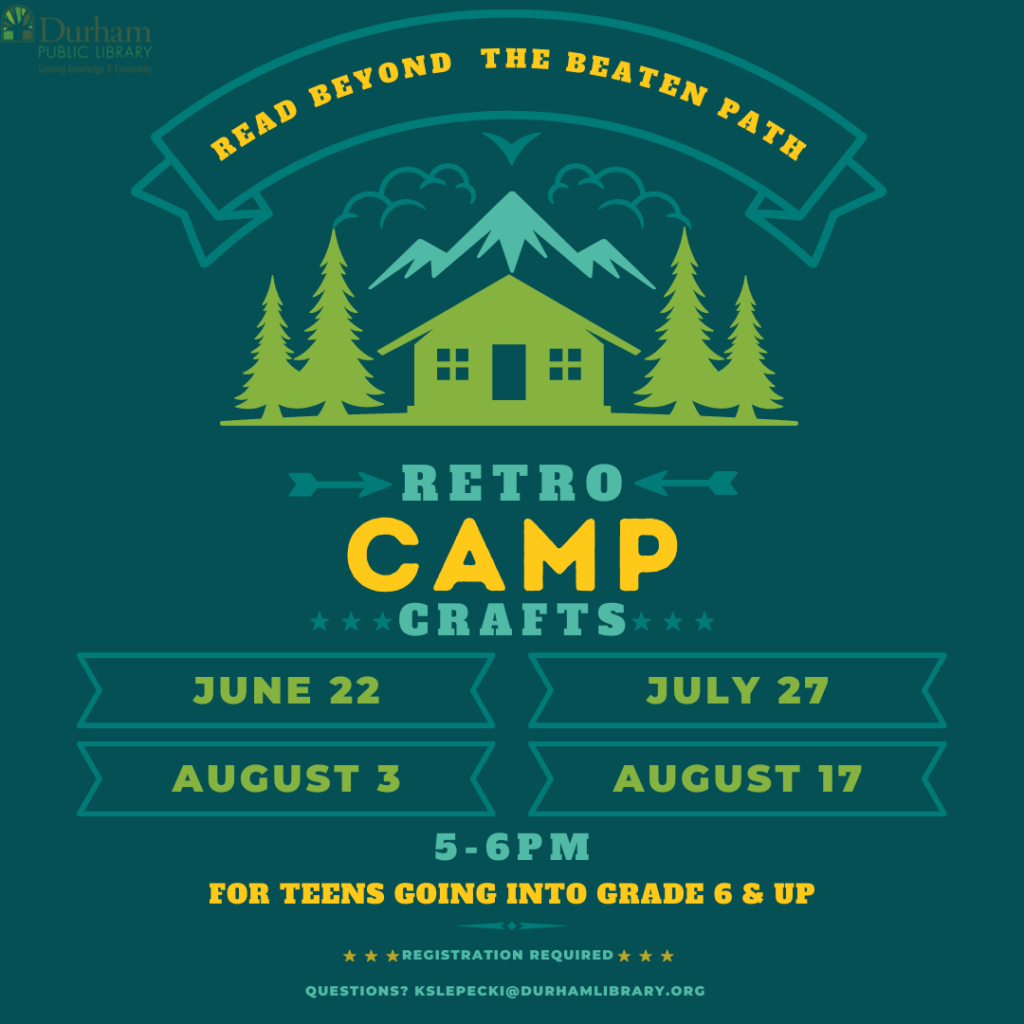 Missed out on sleepaway camp this summer? Teens entering grades 6-12 are welcome to join Miss Kristen in making some summer camp classics. Crafts include hemp bracelets, reverse tie-dye, and more.
Registration is required.
7/27-Hemp Wish Bracelets register HERE beginning 7/13
8/3-Boondoggle Keychain register HERE beginning 7/20
8/17-Reverse Tie Dye register HERE beginning 8/3
---
Punch Needle Workshop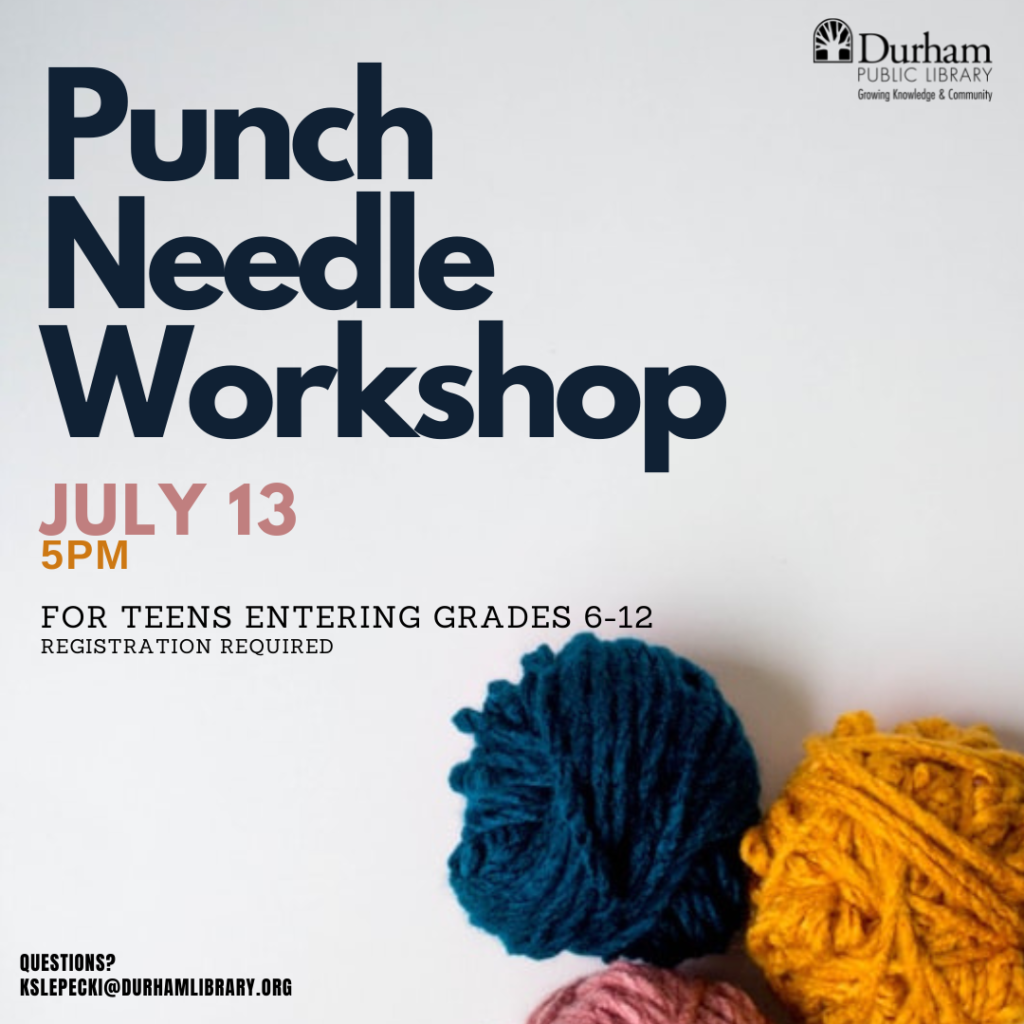 Feeling crafty? On Wednesday, July 13th at 5pm, Miss Kristen will run a punch needle workshop for teens entering grades 6-12. All materials will be provided.
Registration is required and begins Wednesday June 29.
Email Miss Kristen at kslepecki@durhamlibrary.org with any questions.
Register HERE beginning 6/29
---
Scary Story Workshop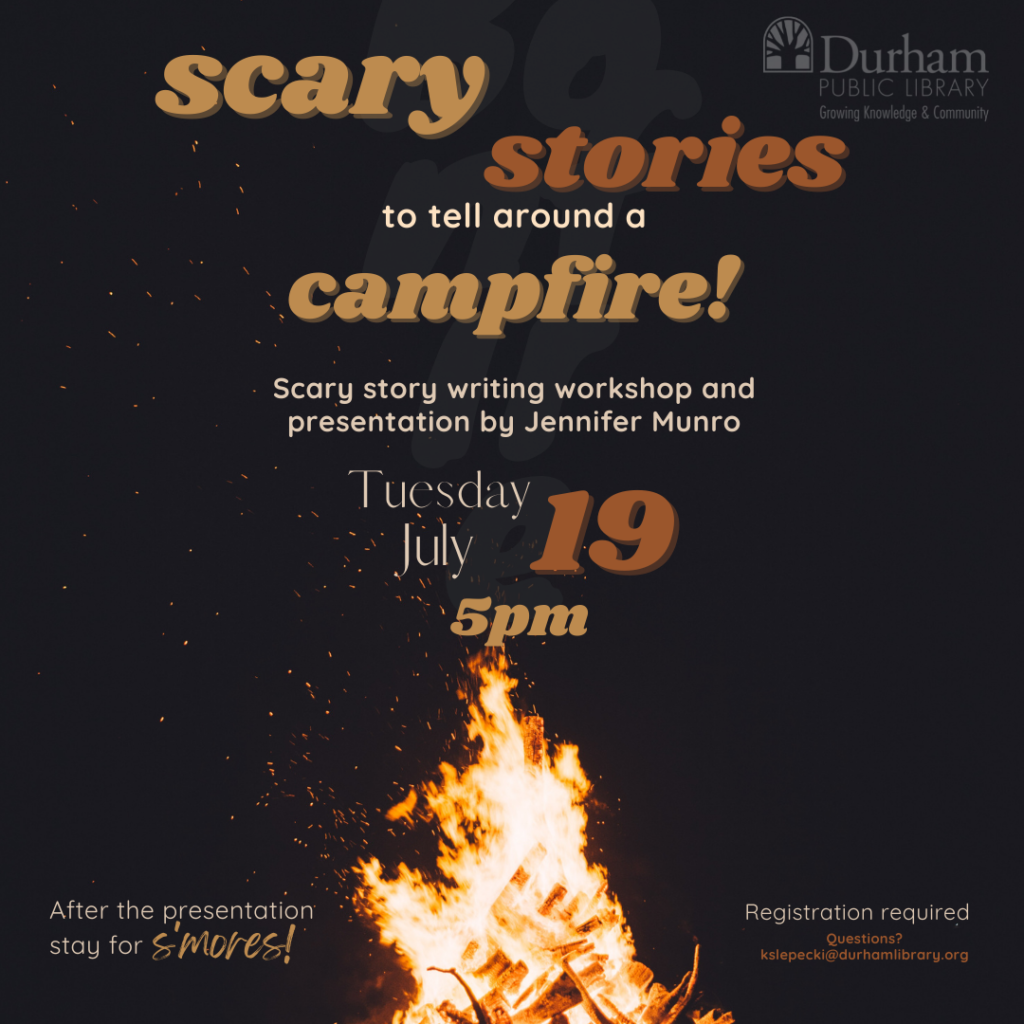 Sharpen your writing skills and be entertained by accomplished storyteller Jennifer Munro. Jennifer will enthrall us with a scary story presentation, and teach us how to write some of our own to share around an actual campfire! Stay after the workshop for s'mores and an opportunity to share stories (scary or otherwise) with the group.
This program is outside around a campfire (weather permitting), please dress accordingly. In the case of poor weather this workshop will take place inside.
For teens entering grades 6-12.
Register HERE beginning 7/5
---
Henna for Teens
Tuesday August 9 5:30-7:30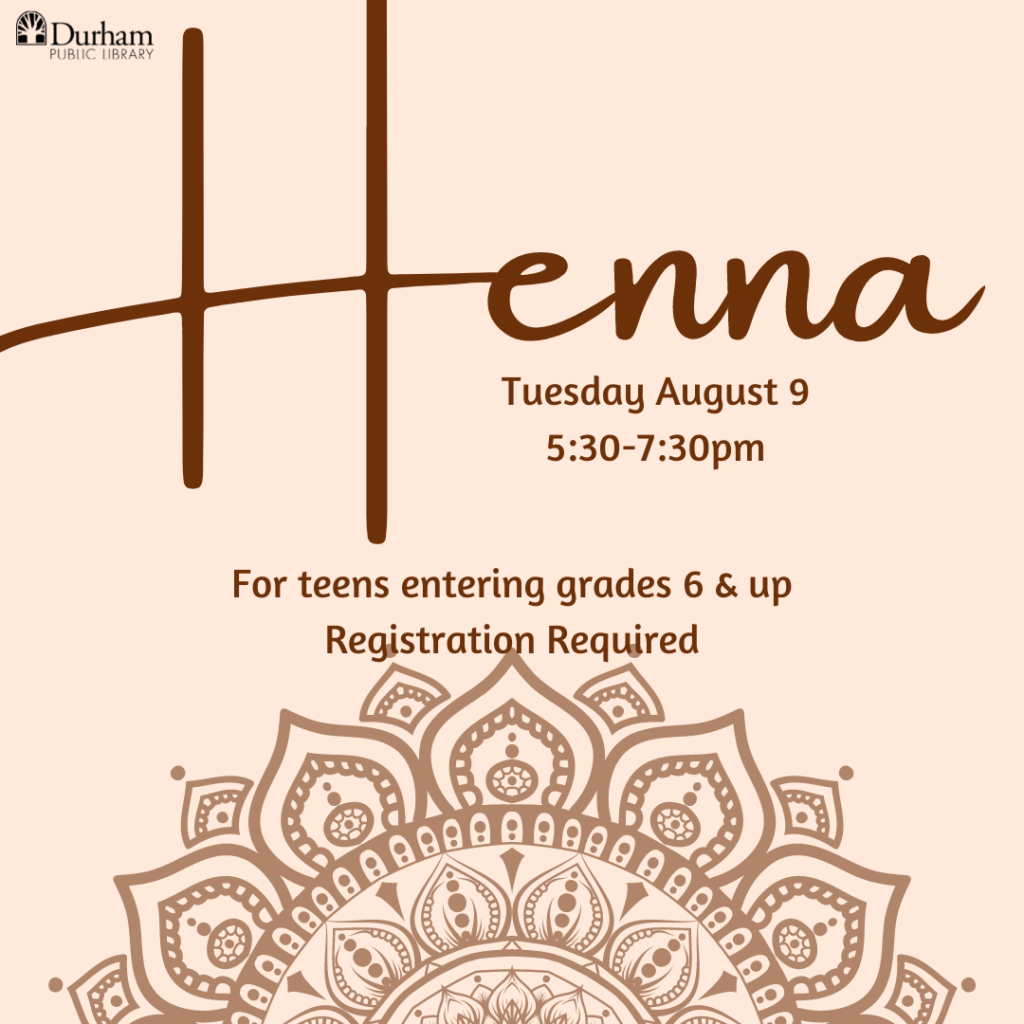 Teens entering grades 6 & up are invited to a Henna demonstration at the library! Join us for a presentation detailing the history, origins and traditions of henna. Then, each participant gets a professionally applied henna design!
Jamilah Henna Creations uses her homemade henna dye using naturally derived henna powder, lemon juice, cajeput and lavender oil- never artificial dyes or chemicals.
Registration is required, and begins 2 weeks prior to the event.
Register HERE beginning 7/26