Most program registration opens 6/7, but please check the registration date for each program. The grade eligibility is based on the grade your child will be entering as of Fall 2019.
Click HERE to be taken to storytimes and preschool activities, which are at the bottom of the page. Don't forget some of our kid activities are all ages with a grown-up to help!
If you have any question or comment please reach out to Gina Monti at gmonti@durhamlibrary.org, or give us a call at 860-740-4096.
---
Story Scavenger Hunt  
8/1-8/31 10-30AM-Close
Find all the book images hidden in the Children's Department during the month of August. Turn in your completed sheet for a small surprise at the checkout desk. Play as many times as you'd like all month long. Open to all ages with an adult.
---
LEGO Robotics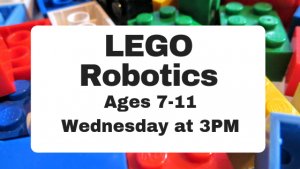 Wednesdays from 3-4:30 PM
It's Back! Ages 7 — 11 years can build and program a simple robot using LEGO WeDo Robotics kits. Registration required for each session. Limit 8 each session. Register online. Click each session below to register when they open.
Session 1: 7/31 (registration opens 7/17)
Session 2: 8/7 (registration opens 7/31)
Session 3: 8/14 (registration opens 8/7)
Session 4: 8/21 (registration opens 8/14)
Meets 7/31, 8/7, 8/14, 8/21
---
C.A.M.P. (crafts all month please)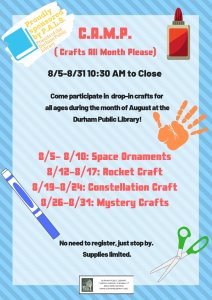 8/5-8/31 10:30 AM to Close
Come participate in drop-in crafts for all ages during the month of August at the Durham Public Library! No need to register, just stop by. All supplies provided. Supplies limited.
8/5- 8/10: Space Ornaments
8/12-8/17: Rocket Craft
8/19-8/24: Constellation Craft
8/26-8/31: Mystery Crafts
---
Storytimes
---
Mother Goose Storytime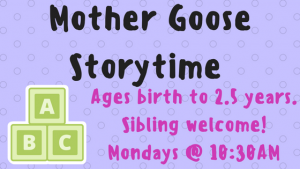 Mondays at 10:30 AM
Ages Birth to 2.5 (Siblings welcome)
Children birth to 2.5 years can join Miss Diana for stories and songs.
No need to register, just drop-in. Siblings welcome!
6/17, 6/24, 7/1, 7/8, 7/15, 7/29, 8/5, 8/12.
---
Preschool Storytime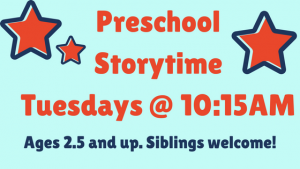 Ages  2.5 and up (Siblings welcome)
Tuesdays at 10:15 AM
Families with children ages 2.5 and up can join us at the library for developmentally relevant; stories, songs, and fingerplays. Sibling welcome! No need to register, just drop-in.
 6/25, 7/9, 7/23,  8/6.
---
Twinkle Toes Toddler Dance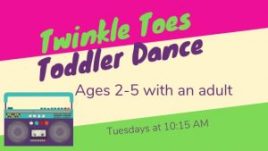 Tuesdays at 10:15 AM
Toddlers on the move! This exciting program is designed to offer children 2-5 years old an opportunity to explore dance in its most primitive form. siblings welcome. Ages 2-5 with an adult. Registration required. Register online. Registration opens June 1st. Register here.
6/18, 7/2, 7/16, 7/30, 8/13.
---
Toddler Art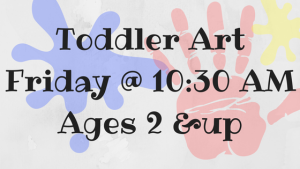 Fridays at 10:30 AM
Ages 2 & up only with an adult
Join us at the library to get messy and make some fun process art! Registration required. Registration for the 7/12 event will open June 7th. Registration for the 8/9 event will open 7/12.
7/12 & 8/9
---
Farmers Market Storytime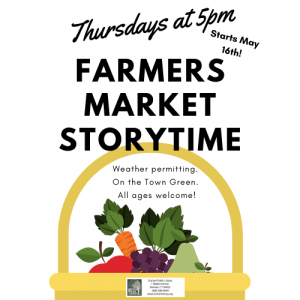 All ages on the Town Green.
Thursdays at 5 PM
5/16, 5/23, 5/30, 6/6, 6/13, 6/20, 6/27, 7/11, 7/18, 7/25, 8/1, 8/8, 8/15, 8/22, 8/29, 9/5, 9/12.
---
Our special programs and events are sponsored by PALS — The Public Association of Library Supporters.
---