---
Summer Reading Starts on Monday, June 20th. Go HERE to print your Summer Reading Log or pick one up at the library.
Most program registration opens two weeks before each meeting or pick-up date, but please check the registration date for each program. The grade eligibility is based on the grade the child will be entering as of Fall 2022.
If you have any questions or comments please reach out to Alex Klaus
aklaus@durhamlibrary.org, or give us a call at 860-349-9544
---
---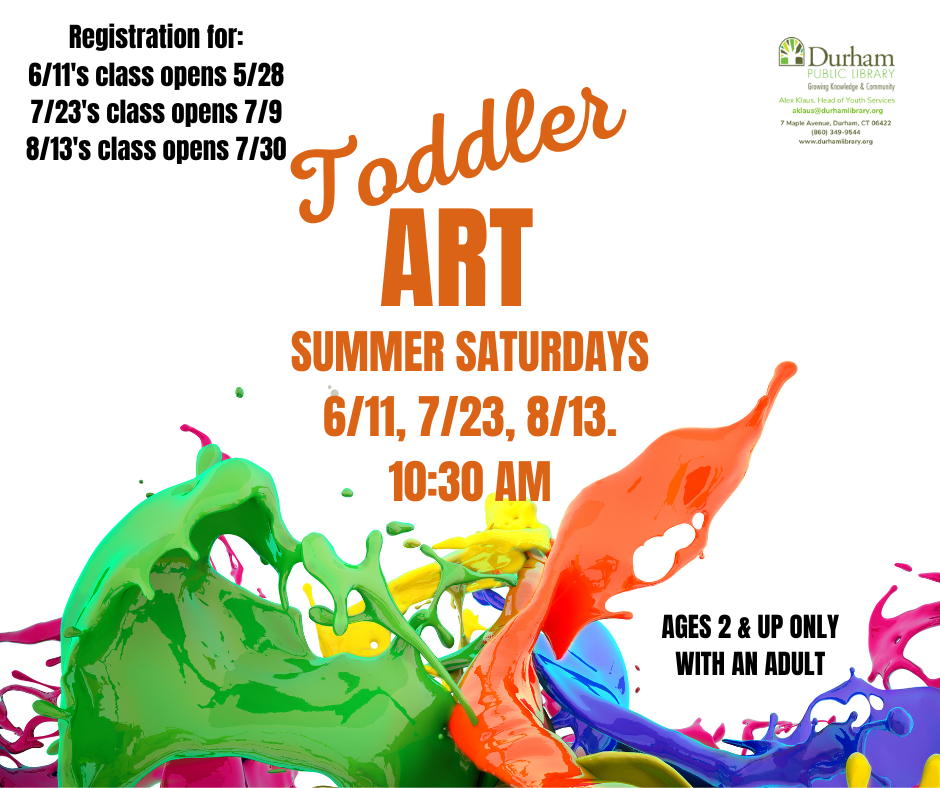 Toddler Art
Saturday 8/13 
10:30 AM
Join Miss Alex to make some process art.
Ages 2 and up only, please. Registration required. Registration opens 2 weeks before each class.
REGISTER HERE: 8/13: Trigger Spray Bottle Art registration opens on 7/30.
---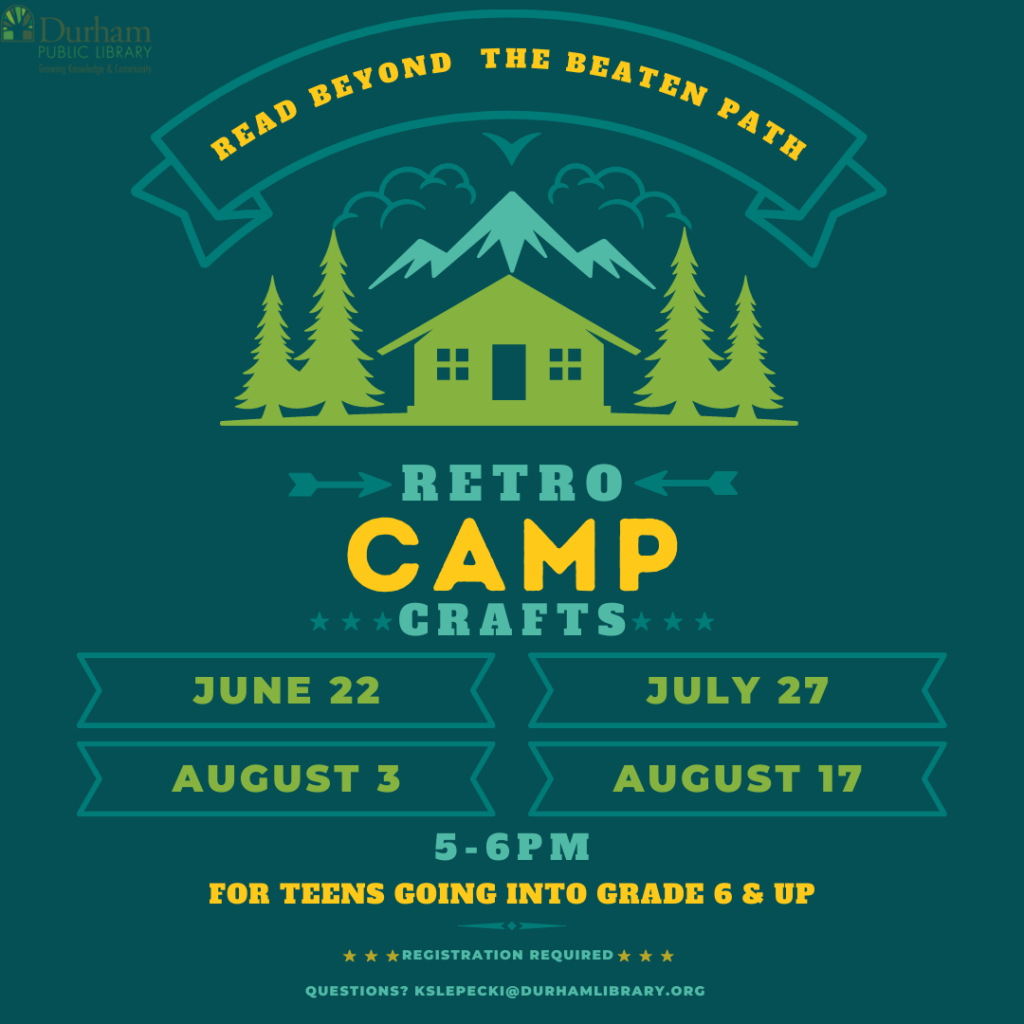 Retro Camp Crafts
Wednesday 8/17
5 PM
Teen (Gr 6-12) Missed out on sleepaway camp this summer? Teens entering grades 6-12 are welcome to join Miss Kristen in making some summer camp classics. Crafts include hemp bracelets, reverse tie-dye, and more. Registration is required.
Register HERE: Reverse Tie Dye beginning 8/3
---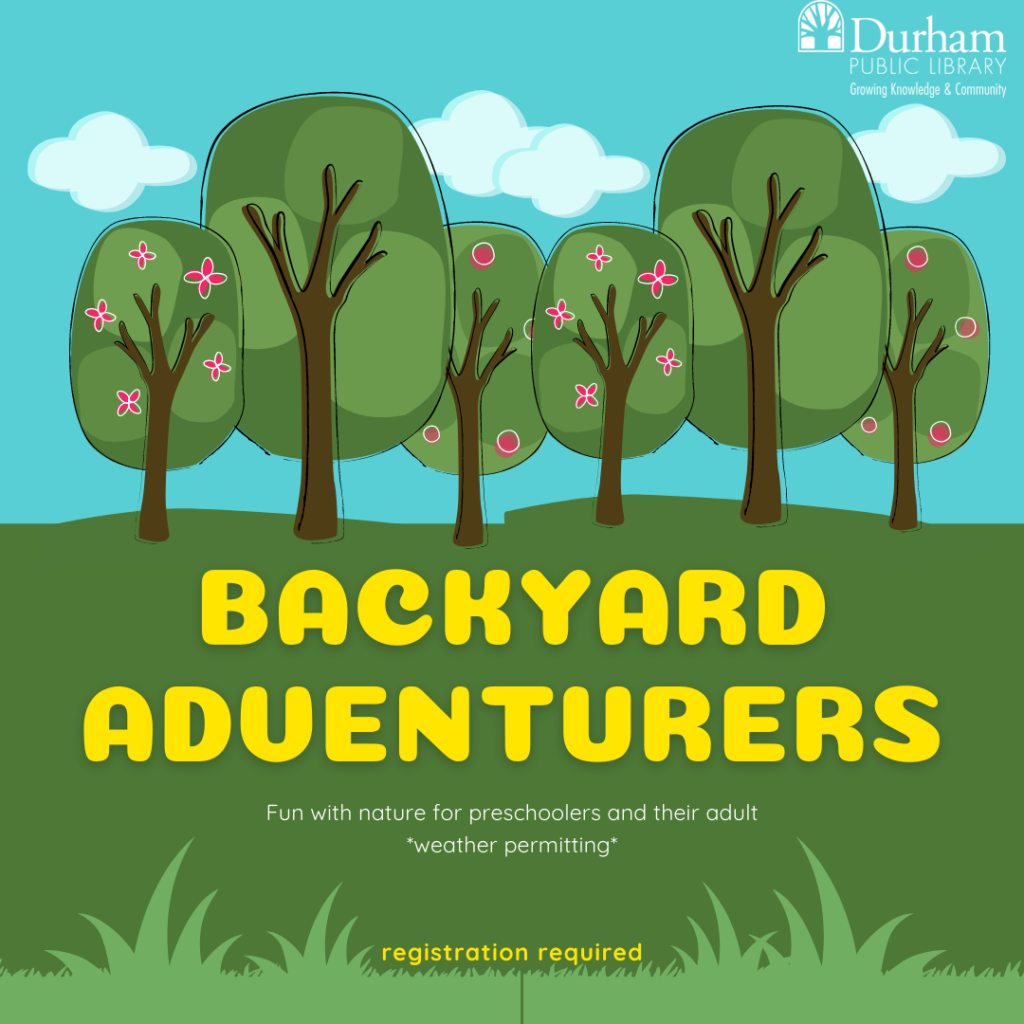 Backyard Adventurers
Thursday 8/11
10 AM
Backyard Adventurers is back, and IN PERSON! Join us on the library lawn for nature-themed crafts, activities, and stories. For preschoolers and their adult. Registration opens 2 weeks before each class and is required. This program is outside, please dress accordingly. Register below.
Register for the August Session HERE: August 11th Backyard Adventurers beginning July 28th
---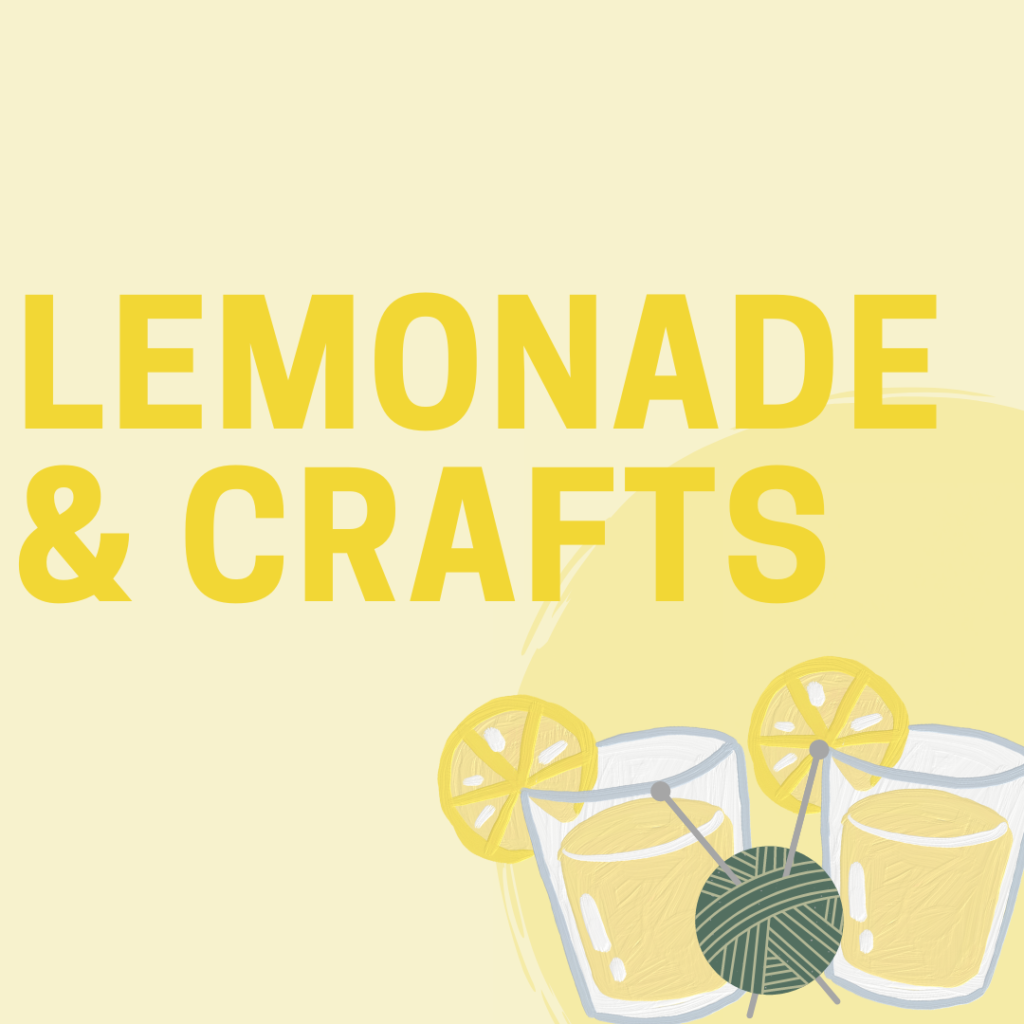 Lemonade & Crafts
Tuesday 8/16
5pm
Lemonade & Crafts is back, and in-person! Join us for some camp-themed crafts, and of course lemonade!
Registration is required for each meeting.
For kids entering grades 3-5.
Register HERE: 8/16 Lemonade & Crafts beginning 8/2
---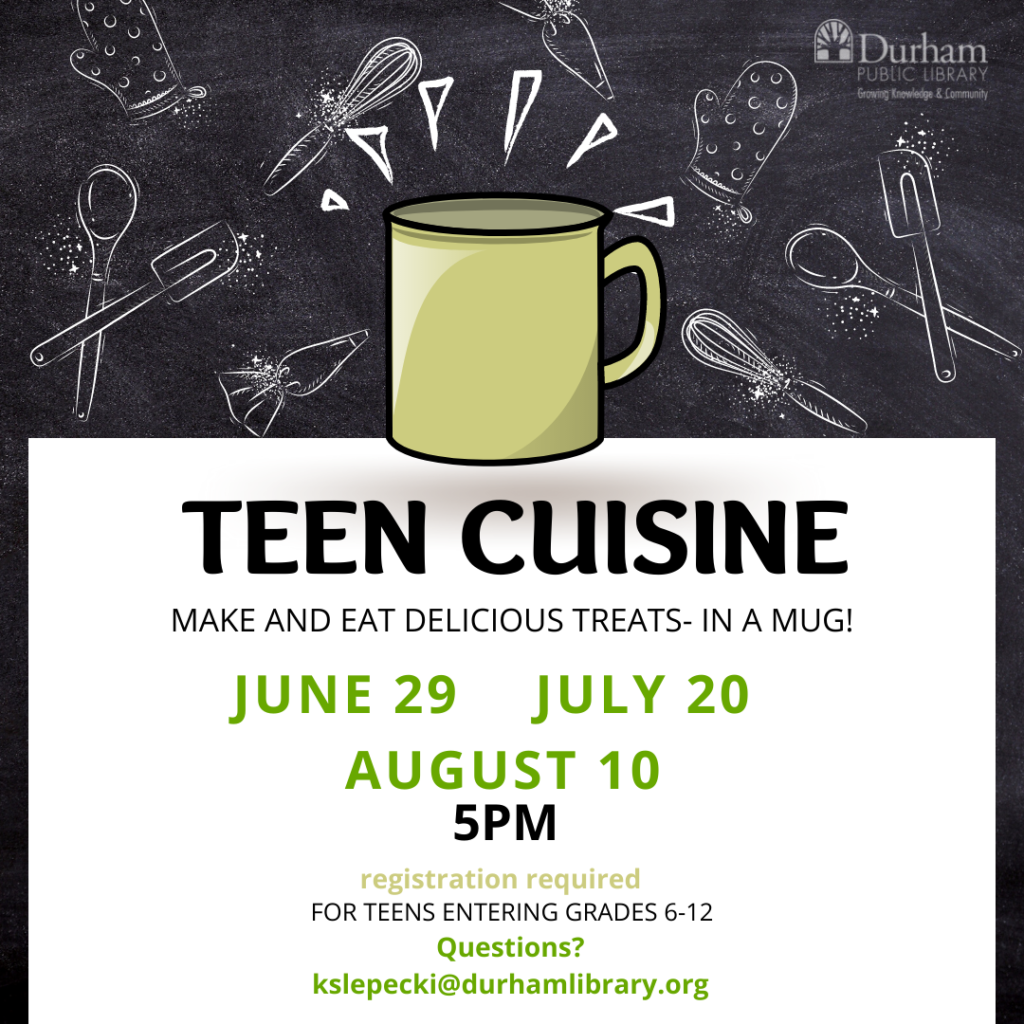 Teen Cuisine: Mug Treats
Wednesdays 8/10
5 PM
Come make (and eat!) a different mug treat each month! Mug and all ingredients will be provided. Registration is required for each session. For teens entering grades 6-12. Limit 14.
Register HERE: August Session beginning 7/27
---
Register HERE: August Session beginning 7/21
---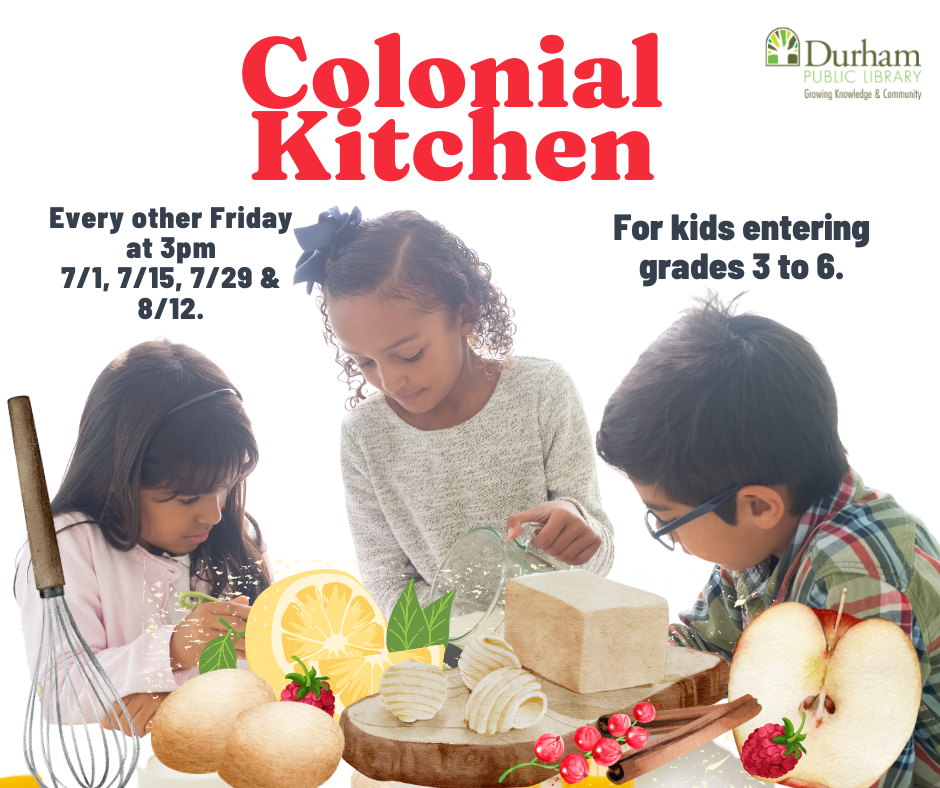 Colonial Kitchen
Friday 8/12.
3 PM
Kids entering grades 3-6 in the fall of 2022 can learn about kitchens and cooking in colonial times by making several simple popular recipes from around 1774. All supplies will be provided.
Registration is required for the 4 session class. Limit 10. Register starting 6/17.
Funded by a donation from the Foster Family for programs about colonial & revolutionary times.
---
---
---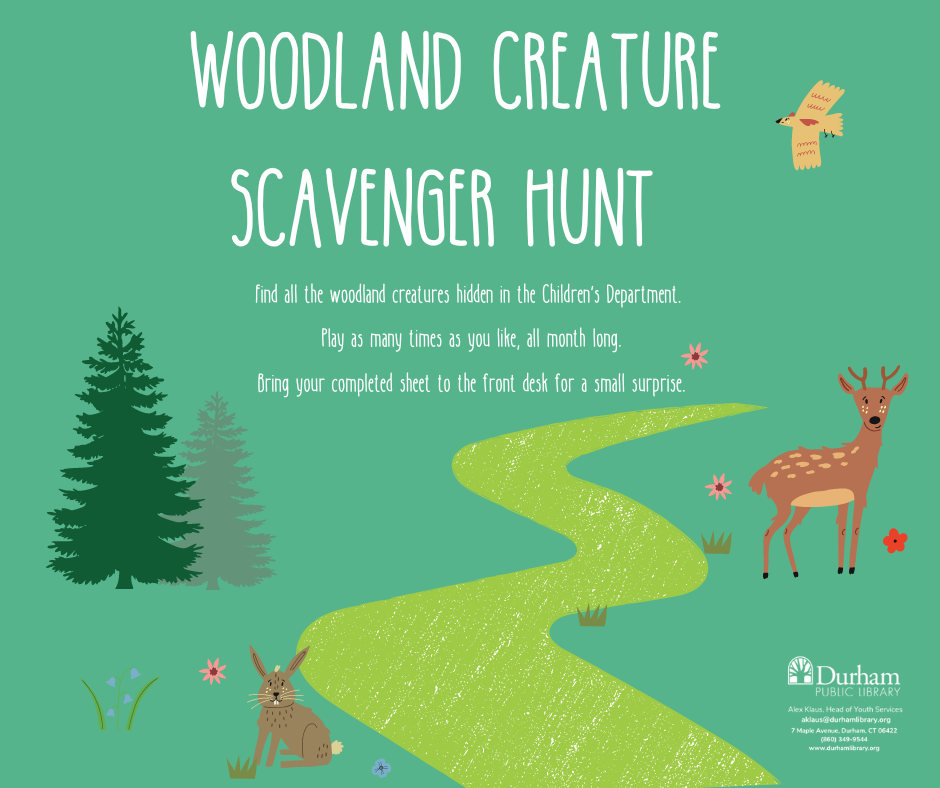 Woodland Creature Scavenger Hunt
8/1-8/31
9 AM-Close
Find all the woodland creatures hidden in the Children's Department during the month of June. Turn in your completed sheet for a small surprise at the checkout desk. Play as many times as you'd like all month long. Open to all ages with an adult.
---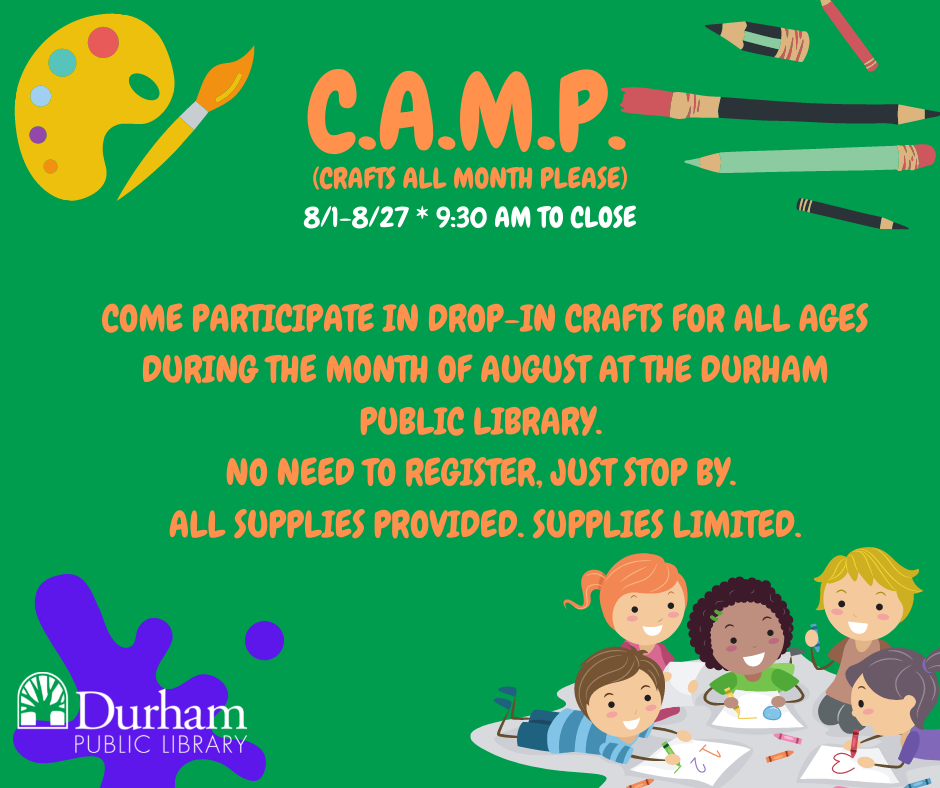 C.A.M.P. (crafts all month please)
8/1-8/27
9:30 AM to Close
Come participate in drop-in crafts for all ages during the month of August at the Durham Public Library. No need to register, just stop by. All supplies provided. Supplies limited.
DIY Binoculars (8/1-8/6)
Hand campfires (8/8-8/13)
Popsicle stick tents (8/15-8/20)
Pompom caterpillars (8/22-8/27)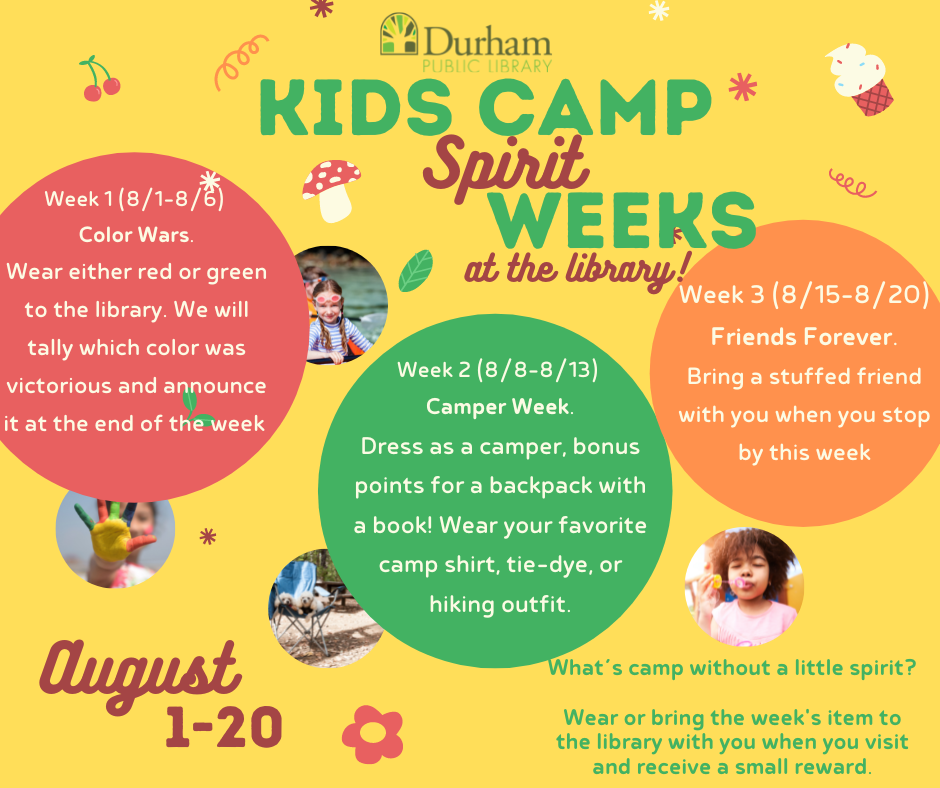 ---
Register HERE: Henna for Teens beginning 7/26.
---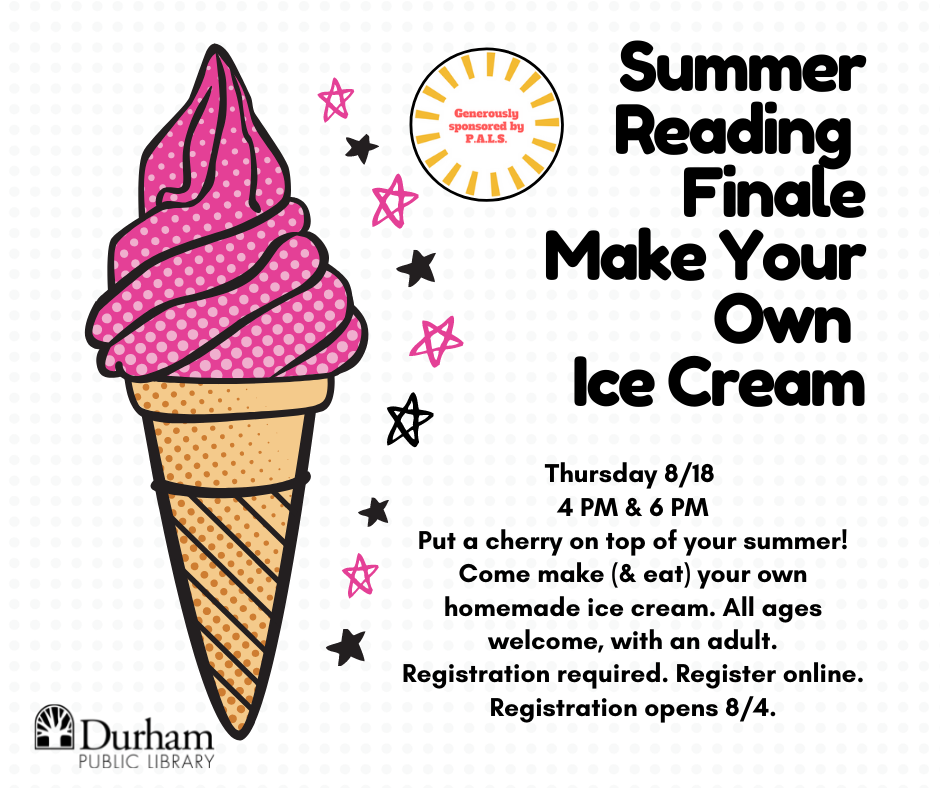 Summer Reading Finale: Make Your Own Ice Cream
Thursday 8/18
4 PM & 6 PM
Come make (& eat) your own homemade ice cream. All ages are welcome, with an adult.
Registration required. Registration opens 8/4.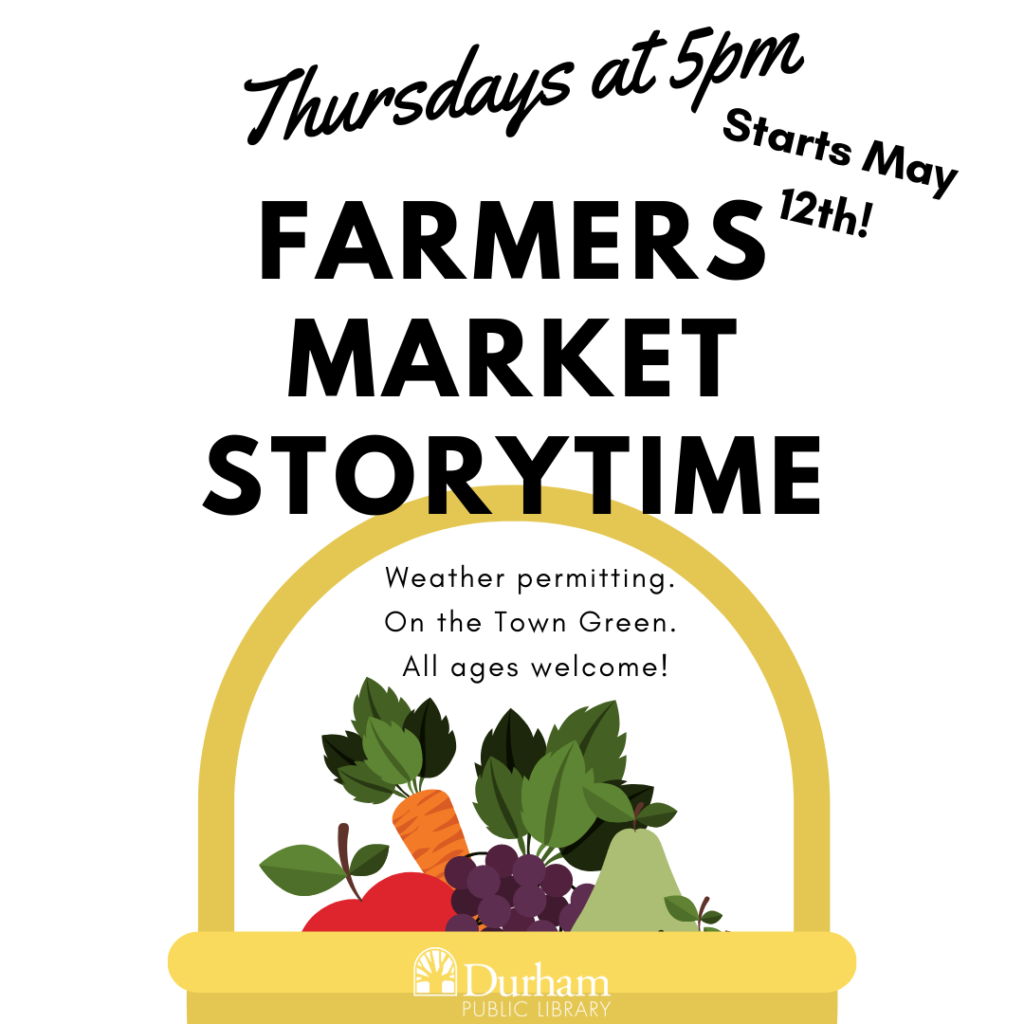 Farmers Market Storytime
All ages on the Town Green.
Thursdays at 5 PM.
5/12, 5/19, 5/26, 6/2, 6/9, 6/16, 6/23, 6/30, 7/7, 7/14, 7/21, 7/28, 8/4, 8/11, 8/25, 8/29,
---
---