When:
April 27, 2019 @ 10:30 am – 11:30 am
2019-04-27T10:30:00-04:00
2019-04-27T11:30:00-04:00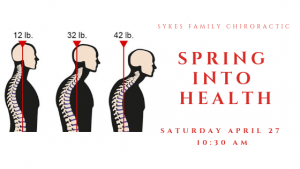 Do you feel as though you are carrying the weight of the world on your shoulders? Correct posture is vital to optimal health and use of technology can affect the spine. Join Dr. Sykes of Sykes Family Chiropractic to learn the importance of spinal health and how chiropractic can be a key component of your health.
Saturday April 27 10:30 am
Please register here.