When:
February 2, 2019 @ 1:00 pm – 2:00 pm
2019-02-02T13:00:00-05:00
2019-02-02T14:00:00-05:00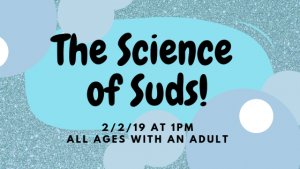 Get ready to think outside the bubble! Have some good clean fun exploring the captivating, colorful science of soap and water. Uncover the mysteries of bubbles' shape, see what happens when you make bubbles with different gases, and push the limits of what suds can do. Who knows what we'll put in a bubble next!
For children and families of all ages! registration strongly encouraged.
Register online starting January 4th.
Presented by the CT Science Center!