When:
March 30, 2019 @ 10:30 am – 12:00 pm
2019-03-30T10:30:00-04:00
2019-03-30T12:00:00-04:00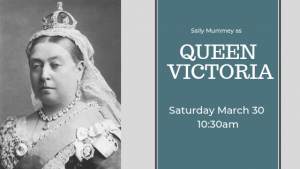 In 1837, teen-aged Victoria ascended to the British throne, untrained, and innocent. Those who would try to usurp her power underestimated this self-willed intelligent young woman whose mettle sustained her through her 63-year reign. Using Queen Victoria's diary and letters, this program reveals the personal details of a powerful yet humane woman, who took seriously her role as monarch in a time of great expansion.  Sally Mummey performs this living history in proper 19th century clothing, resplendent with Royal Orders, and is not be missed.
Saturday March 30 10:30am