When:
July 11, 2018 @ 7:00 pm – 8:00 pm
2018-07-11T19:00:00-04:00
2018-07-11T20:00:00-04:00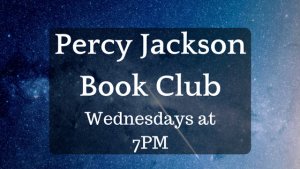 Demigod and Half-Blood families, children, and teens are encouraged to join the library's Percy Jackson Book Club. We will be discussing one book a week for the whole summer. There will be Percy Jackson themed snacks, games, crafts, and trivia for everyone. You can attend just one week or all of them! Registration encouraged, but not required.
Week 1: The Lightning Thief 7/11 at 7PM
Week 2 : The Sea of Monsters 7/18 at 7PM
Week 3: The Titan's Curse 7/25 at 7PM
Week 4: The Battle of the Labyrinth 8/1 at 7PM
Week 5 The Last Olympian 8/8 at 7PM